**We are making some big and very exciting changes to our rabbitry this summer! Stay tuned for updates!**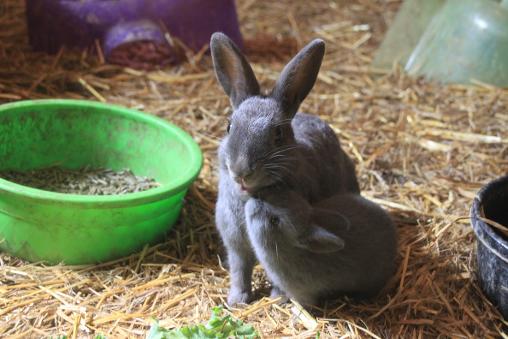 Yes! We have bunnies!!! Lots of sweet little bunnies :)
We bought our first three Netherland Dwarf rabbits back in 2016, three sweet little girls - or so we thought....turns out one of them was a boy and we soon had surprise babies! We fell in love with the idea of having lots of baby bunnies running around right then and there! In one year our little group of three bunnies turned into a colony of 20!
We love them for their small size (reaching only 2-3 pounds when fully mature), their super duper snuggability (they are oh so soft!) and their wonderfully cute babies :)
Netherland Dwarf rabbits are a great choice for a family pet, especially one with young children as they are small and easy to handle; they are also very friendly and love lots of attention and treats. They are very low maintenance and are super easy on your feed bill (being so small they don't consume very much feed)! Our rabbits are wonderful pets for children and adults alike to bond with due to their sweet nature and fun personalities :)
We currently have 4 does (females) and 2 bucks (males) who all have the sweet personalities that we look for when choosing breeding stock. We breed our girls from March to October, giving them a much needed break over the winter. We aim to see each of our girls bless us with 3 to 4 litters per year - each litter ranging anywhere from 2 to 5 kits (baby bunnies). As Netherland Dwarfs are a small breed their litters are small too so we only have a limited number of bunnies available at any given time during breeding season.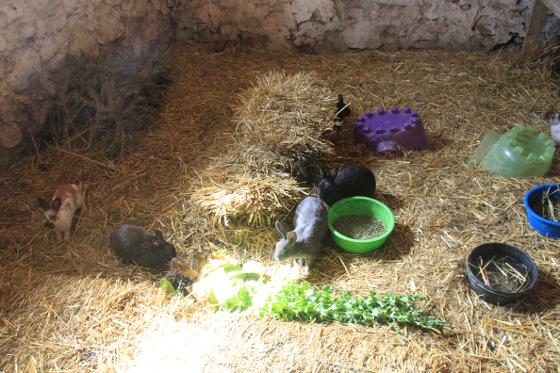 Our former rabbit colony
When we first began raising rabbits we chose to let them live in a colony-type setting (as seen above) and this set-up worked for us for a few years, until it stopped working! At the beginning of 2018 we decided that we wanted to move towards having a more formal rabbitry where all of our bunnies had their own space and we could better manage breedings and monitoring of our bunnies. We were able to source a wonderful cage maker and now all of our bunnies have their own personal and spacious cages which is very important, especially during breeding season when each female requires her own space andpeace and quiet in which to raise her litter. We are very happy with our new rabbitry as it also allows us to spend more time snuggling our bunnies :)
*I don't have any pics of our new rabbitry yet but I will be posting some shortly*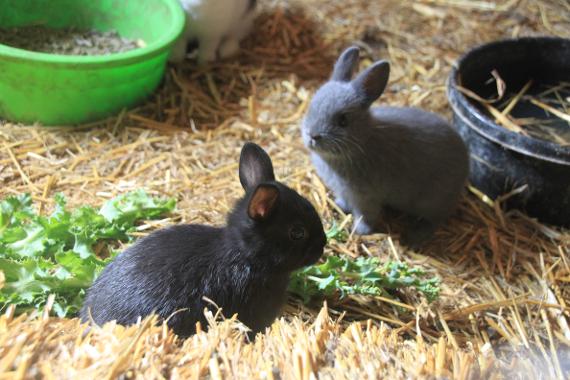 Babies for Sale!
Of course, with all those babies popping up everywhere, we need to sell some otherwise we would have hundreds before we knew it!
We let the babies grow to at least 8 weeks old before they are weaned from their mother and available for sale. Once they reach this age we separate the girls and boys and make sure we give all of the babies lots of extra snuggles before they head off to their new homes :)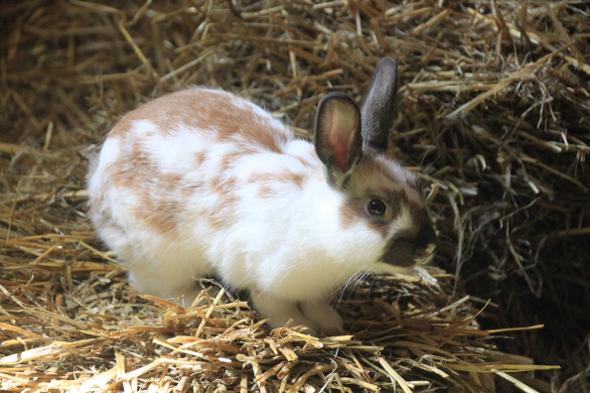 Pricing
The current price for our bunnies is $60 each.
We put a lot of time and care into each and every one of our bunnies. We always make sure that they are friendly, snuggly and docile before they leave for their new homes. Each of our bunnies receives lots of attention every day; from the day they are born until the day they leave for their new homes they are loved and snuggled. For the first 3 to 4 weeks after they are born they stay in the nest box but we check on them often and love to give them little strokes and caresses :) Once they are ready to hop out of the nest boxwe are ready to shower them with love and attention!
*Please Note*: We simply can't predict the genders or colour patterns of the babies that are born. We are happy to put your name on our waiting list if there is something specific that you are looking for but please be patient as these decisions are made by Mother Nature and we are but at her whim! We post all available bunnies for sale on Kijiji as well as on our Facebook and Instagram pages. Follow us for details and to be the first to know when we have babies available :) We are also happy to put your name on our waiting list for a bunny as we always contact anyone on our waiting list before we post them for sale online. This is the best way to make sure you get first choice of your sweet bunny :)