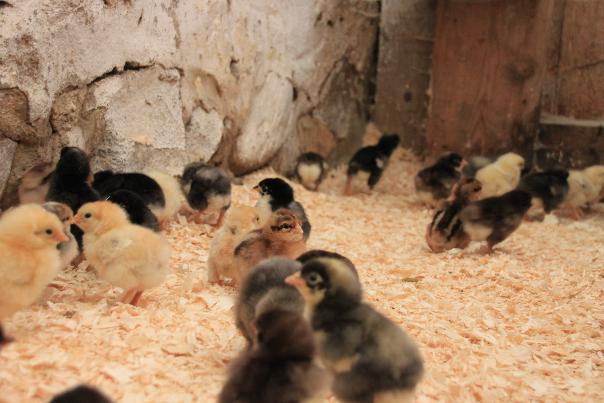 *Poultry Pricing*
We are very passionate about hatching and raising our own beautiful birds and hope that you will also love raising these beautiful breeds! Our pricing reflects current rates and as many of our breeds are quite rare we price accordingly.
All of our birds are fed high quality feed, always have access to fresh water and once they fully feather out (around 8 weeks old) they are given access to the great outdoors. We spend lots of time with them and work hard to keep their coops (as well as the entire barn) clean so that they are able to enjoy a happy and healthy life.
**Please note that we keep a completely closed flock meaning that no live birds are brought in (we hatch all of our own chicks) and any birds that leave our farm are not permitted back (for bio-security reasons).**
2018 Pricing
Day-old chicks $12-$20 each
Pullets $30 each (2-6 months old)
Cockerels $15-$25 each (2-6 months old)
Ready-to-lay Hens $40 (6 months old +)
Roosters $30 each (6 months old +)
*Auto-sexing breeds (like our Bielefelders) are slightly more expensive due to the convenience of being able to sex them right at hatch. This means that you are guaranteed exactly the number of males and females you are looking for at any age. Please contact us if you have any questions about our pricing :)
Please note that we charge a small fee for chicks that aren't picked up within a few days of hatching as we need to cover our feed costs. This amount varies depending on the size of the order but starts at $0.50 per day and will go up from there depending on the number of chicks. Please contact us for an estimate if you need us to hold your chicks for a few days before you are available to come and pick them up :)
If you are looking to bring home an armful of day-old chicks then feel free to contact us to place an order! Please note that we are only taking orders this year (2018) for certain breeds so please check out our for sale page for more info.
We do not ship birds - local pick up only. We also do not ship or sell hatching eggs.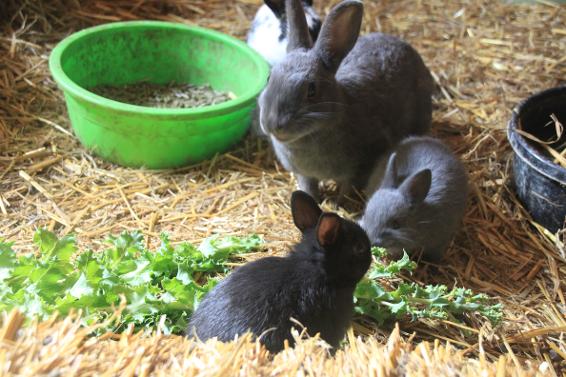 *Rabbit Pricing*
Our bunnies are ready to head to their new homes once they reach 8 weeks old at which point they are able to flourish independent of their mother. They are cuddled daily ensuring that they are friendly and accustomed to being handled. In addition to pellets and hay we love to feed them lots of garden greens as well as apples and treat bars. Our bunnies make great pets and are sure to bring a smile to your face and peace into your heart each and every time you cuddle them :)
2018 Pricing
We charge $60 per bunny (for both males and females)
**We are unable to take pre-orders for specific gender or colour. Once our bunnies reach 4 weeks old and we are able to sex them we will start taking reservations. When they reach 8 weeks old they will be ready to go to their new homes.**
Bunnies are pick-up only - we do not ship our rabbits.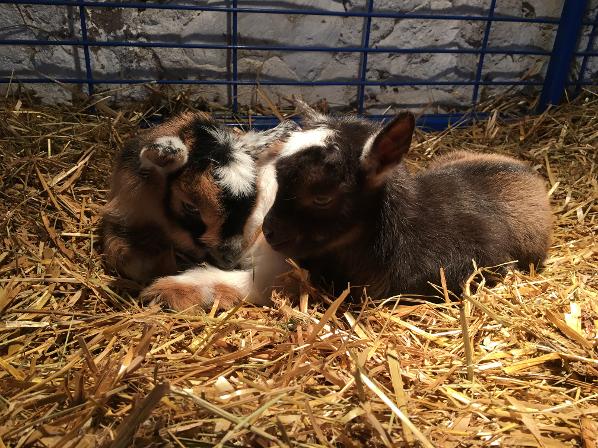 *Goat Pricing*
Our kids are ready for sale once they reach 12 weeks old. At this age they have been fully weaned from their mother and are eating hay and grain on their own. All of our babies are tattooed and registered with the Canadian Goat Society. We also disbud all of our babies to prevent horn growth.
We give all of our babies lots of cuddles and snuggles every day to ensure they are as friendly as possible and will fit in well and adjust to their new home. We do ask that if you are planning to bring only one of our babies home that you already have other goats for him/her to bond with. Goats do not thrive unless they have others of their own kind to live with. Other types of livestock cannot be a substitute for another goat, i.e. even if you already have horses, cows, pigs or sheep they do not offer the same bond as another goat will. Therefore, we will not sell a single goat to live on its own - you must have at least one other goat. If you are new to goats then we will happily help you find a pair to bring home, whether that be two females, two males, two wethers (neutered males) a female and a male, a female and a wether or a male and a wether.
2018 Pricing
Doelings (young females) $800
Bucklings (young males) $400
Wethers (neutered males) $200
**We require all new owners to sign a contract outlining all of our terms and conditions of purchase. This will be provided to you to read over once you have shown serious interest in one of our babies. You will be required to sign it upon full payment and pick up of your kid(s). Once you have chosen the perfect baby to bring home we do require that you put down a 50% deposit to hold your kid(s) for you. We will be sure to send you lots of pictures and updates while your babies are still here with us so you can follow their progress!**
Please keep in mind that the breeder (thats us!) always gets first choice of any babies born here on the farm. After we have made our choice (whether we decide to keep any or not) we will notify you of who we have available :)
We rarely have adults for sale but if you are looking for a doe or buck to add to your herd then please feel free to contact us and if we don't have what you are looking for we would be more than happy to put you in touch with another breeder who might :)