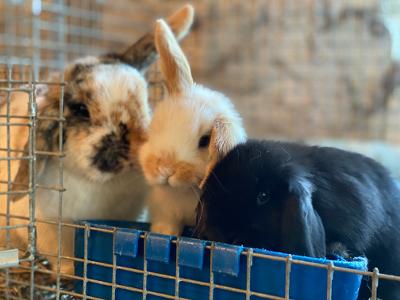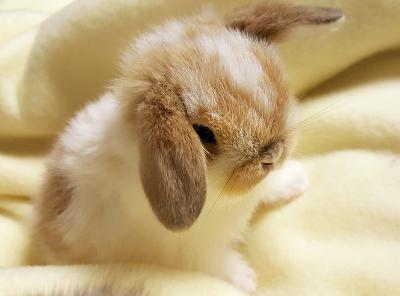 Are you looking for an adorable and friendly bunny to add to your family or breeding program? Then you've come to the right place! We strive to produce Holland Lops that are not only sweet and friendly (and oh so cute!) but that also conform to the breed standard. We love beautiful as well as well built bunnies! We try to have babies available as often as we can, so scroll down to see who we have for sale!
You can also check out our Facebook and Instagram pages for lots of photos and information on all of our available bunnies :)
All of our bunnies are 100% purebred and come fully pedigreed!
**Please note: we require a $50 deposit in order to hold a bunny for you :)**
We have two very exciting new additions to our Bunny Care Package!
We are now sending each of our bunnies home with even more goodies to help them get off to a great start in their new homes!
Our NEW Bunny Care Package includes:
1. Your Bunny, as well as:
2. Bag of Transition Pellets
3. Bunny Care Guide
4. Bag of Transition Hay *new*
5. Cotton Tote Bag (to carry all of your goodies in!) *new*
We strive to see all of our bunnies and their new families get off to a happy and healthy start! We believe this all begins with a comprehensive Bunny Care Package as well as all the support from us that you need! We are very happy to be offering this new package to all of our new bunny families and hope that this gives you the confidence to begin your adventures into bunny love :)
**We have another gorgeous litter of bunnies ready to leave for their new homes!**
*See below for details!*
**Feel free to contact us if you are interested in bringing one of our sweet bunnies home!**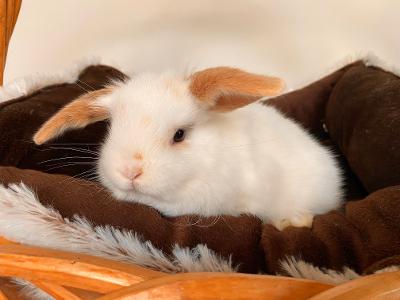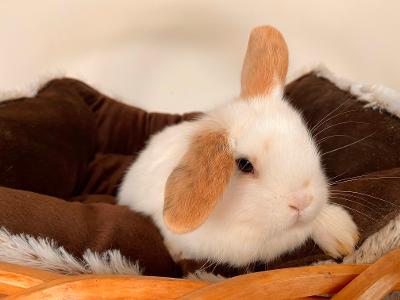 Happy Hens Vanilla Bean
Male #1
DOB: June 26, 2020
Litter: Chestnut x Mr. Bean
Colour: Tri
Ready to go: August 7, 2020
Price: $150
Vanilla Bean is a sweet little guy who absolutely loves to be held and cuddled! He is always so happy to see us and greets us with love and affection :) He is such a calm and gentle boy and will make a great addition to any home :)
STATUS: *Available*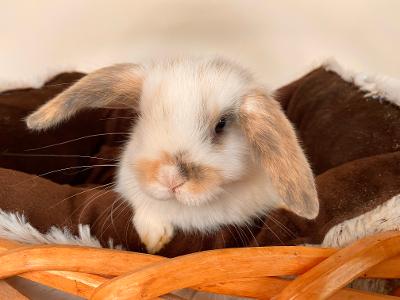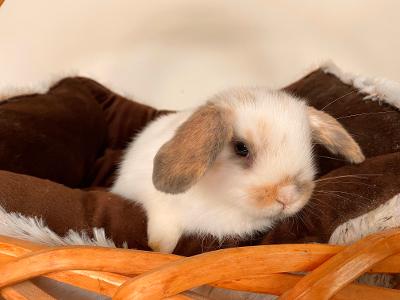 Happy Hens Chocolate Sauce
Female #1
DOB: June 26, 2020
Litter: Chestnut x Mr. Bean
Colour: Tri
Ready to go: August 7, 2020
Price: $150
Chocolate Sauce is a lot like her brother, in that she shares the same calm and loving nature as him! She loves attention and comes running whenever she sees us! We love holding her and petting her and can't wait for her to find that perfect family to cherish her forever :)
STATUS: *Available*
Upcoming Litters Available For Reservation:
Chestnut x Mr. Bean (August 2020)
Maple x Mr. Bean (September 2020)
Tough Decisions x Shooting Star (September 2020)
*Follow us on Facebook and Instagram @HappyHensHeritageFarm for lots of pictures and updates on our current litters!*
**Important Notes!**
1. All Holland Lops retain some ear control when they are little. By the time time they reach 10 to 12 weeks old they should lose completeear control and their ears will thereafter remain permanently flopped down :)
2. We highly recommend that you have your bunny spayed (females) or neutered (males) once they reach maturity, which is around 6 months old. Once rabbits reach breeding age they can become territorial and moody and may no longer enjoy being picked up or handled. This is because the hormones in their sweet bunny bodies start to rage and prepare them to defend their space and their young. This issue is easily solved by having them fixed so that they no longer have these tendencies.
Having a bunny fixed usually costs a couple of hundred dollars so please factor this expense in when considering purchasing a bunny :)
Please be prepared to have this procedure done as it will make not only for a calmer bunny, but also for a calmer you!