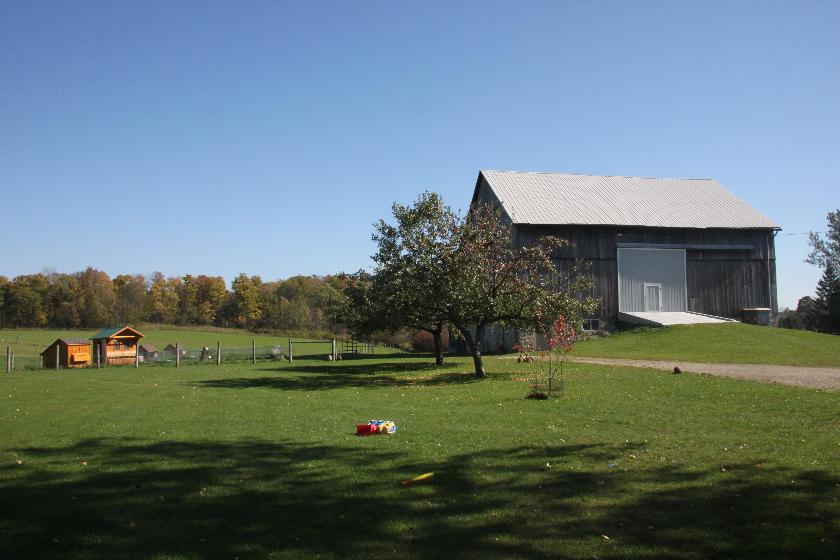 We live on a 30 acre farm located just outside of Harriston, ON (about 2 hours north west of Toronto). We have a lovely old barn, lots of pasture space and fields filled with crops, a forest and a lake out back. This area of Southwestern Ontario is prime farm country and you will find endless wheat, corn and soybean fields as well as many other families raising livestock, including cattle (meat and dairy), horses, pigs, sheep, goats and of course, chickens! We specialize in heritage breed poultry as well as Nigerian Dwarf Goats :)
Back in 2015 (and with no prior knowledge of anything farming related!) we brought home our first flock of heritage breed hens. Then we decided to try hatching some of our own chicks and....we were hooked! We fell in love with the new lives that we helped to nurture and raise and wanted to keep going. We soon choose the breeds that were right for our farm and from there we added turkeys and ducks, all providing lots of eggs and meat (and cute babies!). We then began to breed rabbits which were a wonderful addition to our farm the following year! And finally...our goaties, oh how we love and adore our goats! We started with a small herd of Nigerian Dwarf Goats in the spring of 2016 and soon realized that we had found something special :) In 2017 we welcomed 7 more goats into our herd and are now very excited to have an established herd!
All of our animals are productive and hard working - a must on a farm! They are also hearty and friendly - another must on our farm! Our poultry give us eggs and meat, our goats give us milk and all of our animals bless us with armfuls of beautiful babies each year :) We breed all of our animals for temperament and productivity and are pleased to offer their very special babies for sale. We sell day old chicks , as well as pullets and cockerels (young hens and roosters). Our kids (baby goaties) stay with us until they reach 8 weeks old.
Please feel free to get in touch with us to inquire about availability! We always keep a waiting list open so if we don't have what you are looking for at the moment we are happy to add your name to our list and get in touch with you once we have your quota of cuteness available :)