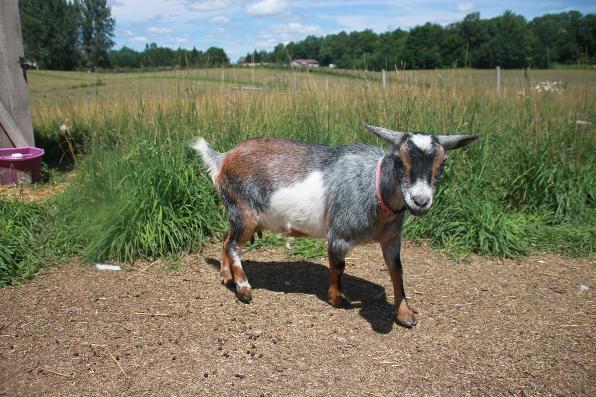 Sky River Meadows Toryn Farr
DOB: May 17, 2015
Sire: Sky River Meadows Geordie
Dam: Sky River Meadows Neveah
Offspring: Happy Hens Heritage Tiger (buckling) 2017
Happy Hens Heritage Maui (buckling) 2018
Happy Hens Heritage Moana (doeling) 2018
Our girl Toryn is such a sweetheart! She was the first doe we welcomed to our farm (along with her brother Mace) and she was such a sweet girl that she led us into the decision to become breeders with such ease. She is an excellent mother and a fantastic milker! She is very calm when being milked and gives us lots of delicious milk :) Toryn loves to come over for a good scratch (especially when she is hugely preggers and can't reach her back!) and just loves her apple treats!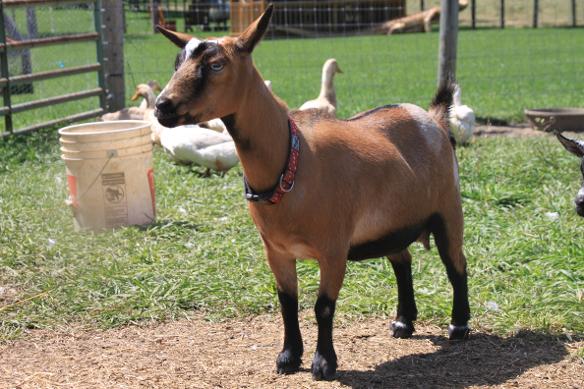 Parliament Hill Flora
DOB: July 20, 2014
Sire: Taylor Side's Rembo
Dam: Taylorside's Vanilla Ice
Offspring: Parliament Hill Phoebe (doeling) 2017
Happy Hens Heritage April (doeling) 2018
Happy Hens Heritage May (doeling) 2018
Happy Hens Heritage June (doeling) 2018
Flora is a lovely girl who was rather shy when she first arrived at our farm but quickly warmed up to us and now loves her snuggles! She goes crazy when we bring treats into the barn and is always first in line! Flora is rather strong willed and has decided that she does not like being milked - she also has a very small utter thus making her very difficult to milk anyways - as such she is the only doe on our farm that we do not milk. Not to worry though! That doesn't mean that her daughters will also have small utters as girls get their milk lines from their father, not mother, so we are always sure to breed her with males that come from excellent milking lines!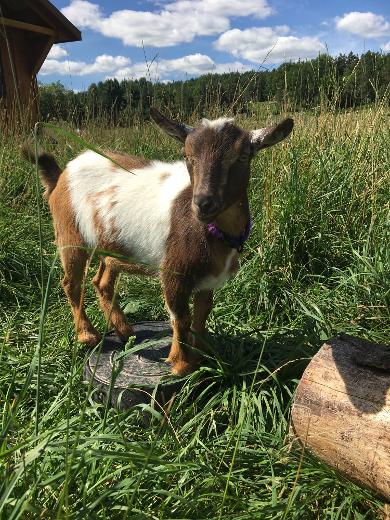 Bedrock N Brambles Ginger
DOB: December 29, 2016
Sire: Lone Larch CC Little Bit
Dam: Sky River Meadows Mira
Offspring: N/A
Oh, Ginger! Such a sweet girl :) She is super friendly and just loves her snuggles! We love her gorgeous colouring and her super sweet personality. She will be ready to be bred this fall (2018) and we can't wait to see the beautiful babies that she produces next spring! She is best friends with Honey as they were born on the same farm and spent their early days together. They love hanging out side by side in the barn and are always competing for my attention!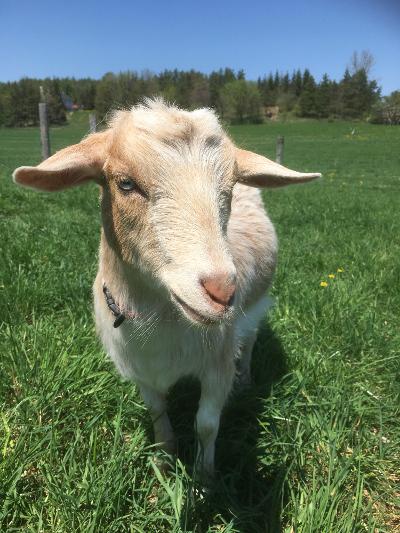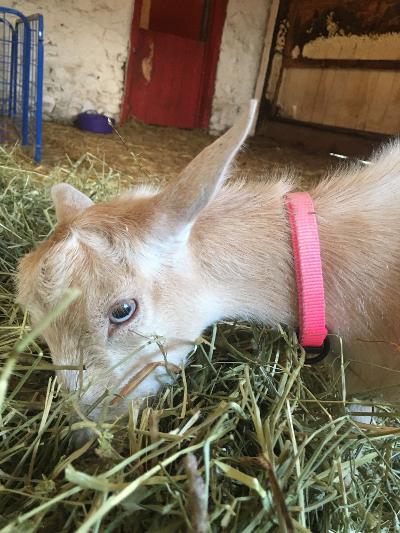 Bedrock N Brambles Honey
DOB: March 3, 2017
Sire: Lone Larch CC Little Bit
Dam: Sky River Meadows Cordelia
Offspring: N/A
Honey Bunny :) Honey is my special girl - she is unbelievably snuggly and will defend her snuggle time fiercely! If any of the other girls come for a snuggle while Honey is getting hers she will let them know that it's her turn, and hers alone! She is so very sweet and loves to bask in attention :) She has such a gorgeous honey colour and comes from excellent milk lines. She will also be ready to be bred this fall (2018) and we are so excited to watch her blossom as a mother :)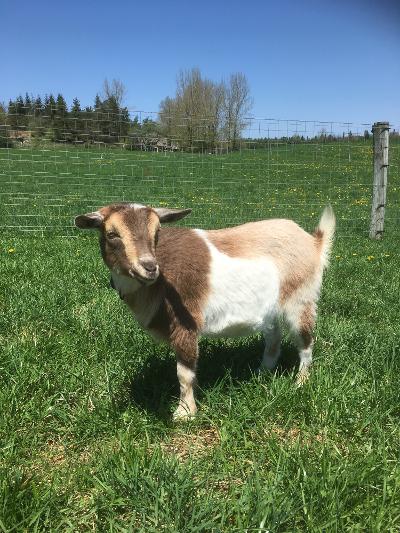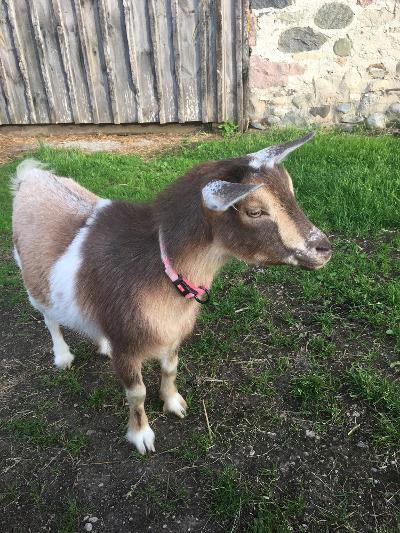 Sky River Meadows Eowyn
DOB: April 30, 2017
Sire: Prairie Wood No-Way José
Dam: Sky River Meadows Cassiopeia
Offspring: N/A
Eowyn is a strong and beautiful girl, just like the character from Lord Of The Rings that she is named after! She has such lovely colouring and will no doubt make beautiful babies next spring :) She is another one of our girls who loves her snuggles (who doesn't?!) and ever so willingly comes over for a good scratch and lots ofhugs :)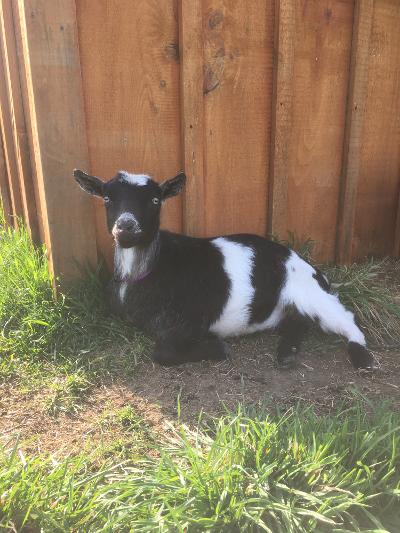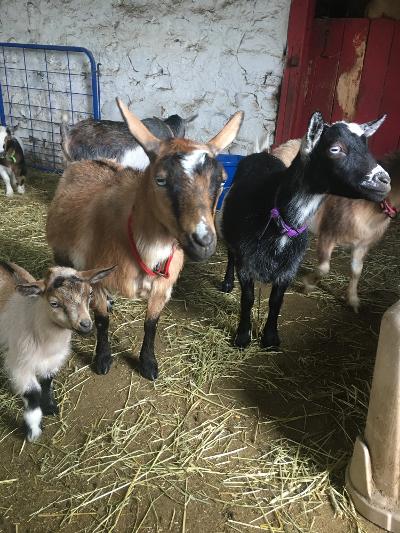 Parliament Hill Phoebe
DOB: May 4, 2017
Sire: Tripping Billies Mr. TS Topgun
Dam: Parliament Hill Flora
Offspring: N/A
Phoebe is a girl who likes to make up her own mind and is very independent! Like her mum, Flora, she was quite shy when she came to our farm. Unlike her mum though, she didn't warm up to us as quickly. We have worked with her ever since she joined us last summer and with time and patience she has come around...a little! She still prefers to come for snuggles when she deems it a good time, but....she loves her treats! If we come in carrying apple treats she doesn't hesitate to run to the front of the line :)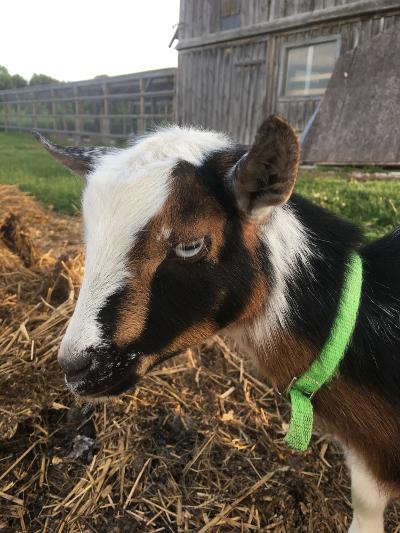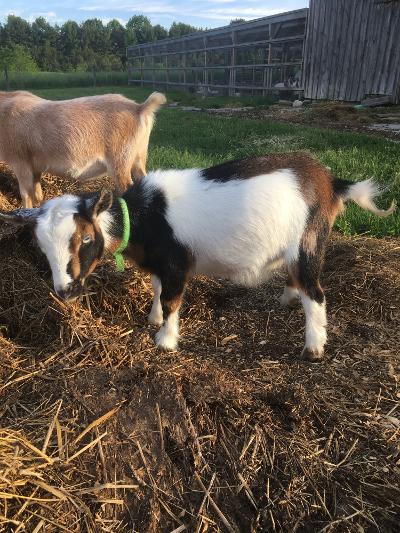 Sky River Meadows Rosie Cotton
DOB: July 10, 2017
Sire: Sky River Meadows Nimoy
Dam: Sky River Meadows Soleil
Offspring: N/A
Rosie is such a sweet little girl :) She is so friendly and absolutely loves her snuggles! She is the smallest doe in our herd but she knows how to stand up for herself and not let the bigger girls push her around. She has proven to be an excellent babysitter to our other girls' babies as she is always playing with them and keeping them company! I think she still thinks that she is a wee one herself! I can't say enough good things about our sweet Rosie! We can't wait to watch her blossom and grow as she becomes a mother herself next spring! Until then we are very much enjoying her sweet, youthful energy :)